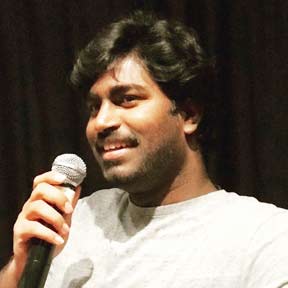 Host: Venky (Venkatesh Gilakattula)
TORi Show(s): Happy Hour
Zodiac: Taurus
Occupation: Software Developer
Location: Chicago, IL, USA.
Education: Masters, Computer Science.
Talents: Writer/Director
Passion: Writing.
Likes/turn-ons: Cinema and Music
Dislikes/turn-offs: Negative energy by other people.
Favorite quotes: " Nee jeevitham mida joke veyadam lo thappu ledu kani aa joke nuvve modalupettali. - Mullapudi".
Favorite books/authors: Siprali,Maidanam/Mullapudi Venkataramana.
About me: I always wanted to have positive thoughts and enjoys simple moments. A cup of coffee can make me happy for the day and can write about 10 pages of poetry on a beautiful girl who is in my imagination. I believe life is all about living the days and not counting them. I take problems as exams and try to get pass marks without copying.