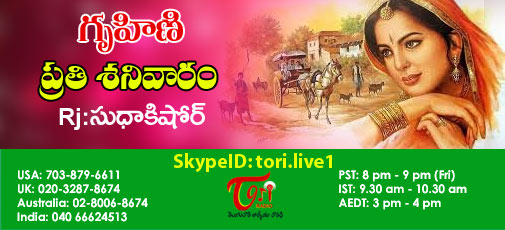 Program On

Program Name

Listen

Dec 03 2016
Gruhini
Nov 26 2016
Gruhini
Oct 29 2016
Gruhini

»

More Archives...
Host: Sudha Kishore

TORi Show(s): Gruhini

Zodiac: Virgo

Occupation: Software Engineer

Location: Roseville, California

Education: B.E

Talents: Singing, dancing .. a bit of both

Passion: Singing, dancing, RJing, Handicrafts

Likes/turn-ons: Perfumes, Flowers,Joyful atmosphere, Funny people

Dislikes/turn-offs: Hatred and Jealousy

Favorite quotes: In each waking day, you will find scores of blessings and opportunities for positive change. Do not let your TODAY be stolen by the unchangeable past or the indefinite future! Today is a new day! - Dr. Steve Maraboli

Mounam gane edagamani mokka neeku chebutundi Edigina koddi vodagamani ardham andulo undi
Telisindi Gorantha … Teliyalsindi Kondantha

Favorite books/authors: Any fiction novel with a good plot

About me: ...Nenu nene :)...Well, nothing much to say about me.